w e l c o m e t o r e g i n e c e n t r a l  
w e l c o m e t o r e g i n e c e n t r a l
w e l c o m e t o r e g i n e c e n t r a l  

" Not satisfied with merely being one of the most talented women in Asia,
Velasquez is also one of the most beautiful. Her gorgeous face and impressive
body consistently land her on practically every Asian men's magazine's top ten
list of sexiest women on Earth " - Askmen.com

Saturday, April 05, 2003 03:03:47 PM
' If you take me
Wherever you go

I wanna learn the things
That you know -

Now that you
Made me believe . .
I want you to take me '


'Cause I long to be able
To see the things
That you see,

Know that
whatever you do . .

I'll follow you - '

- Bobby Caldwell






For the latest news on Regine go to the Interactive Board
What was the big Song Bird stories for 2002?
Besides her Canada Incident? Write us your idea!
( One story was a joke that turned out to be real. That Regine's clone is really HER CLONE.)
Vote for the SongBird in the MTV-ASIA AWARDS
REGINE's GREATEST HITS turns GOLD!!
Regine Multi-media added 6 new Christmas Mp3s on-site!
From Christmas at The Fort and Christmas On A High Note.
I like MP3's these days!! Go to: http://reigne.topcities.com
While visiting the Toy Kingdom at the SM Mall with some of the family's little
Gremlins I hear Christmas songs over their store system. And one of them was
Regine's 'Oh, Holy Night' The first time to hear it and it is an awesome version.
THE LATEST INFO UPDATE ON THE REGINE VELASQUEZ
GREATEST HITS ON VIVA SALES TALLY ISSUE - Click Here

Songbird sings Legrand posters!
The funniest & coolest picture of the Song Bird and fan ever!!
( Great job by Regine fan sincere sincere )

NEW REGINE FAN SITE BY SINCERE SINCERE
( A Expat-Foreigner who does his own Regine series)

The Music Friend's favorite Picture
of the Song Bird and David Pomeranz

We (and everyone else) has already heard about that big issue in regards to Regine's sales tally at several foreign record bars. But its not a new story to fans. It happened last X'mas as well. But your web host and co. are on vacation. :-) We'll check back with fans emails about it as soon as possible. Thanks for being concerned. Regine is so blessed to have so many caring fans out there! Wish all fans cared this much! -the Autopilot
Martin & Regine: The 2003 U.S. Concert Tour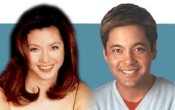 Sharon Cuneta (yes, Sharon) would like to invite everybody to watch the 2003 U.S. Concert Tour of Martin Nievera and Regine Velasquez.
March 8 - Hawaii Convention Center
March 22 - Arie Crown Theatre, Chicago
March 29 - Cow Palace, San Francisco, CA
April 5 - UCLA Pauley Pavilion, Los Angeles, CA
April 13 - Taj Mahal Hotel Casino, Atlantic City
For inquiries, call Maxi Media USA at 818-549-9955 or 818-549-0072. Watch out for further announcements.
The Inside Buzz is now posting a nice unreleased MP3
( far as I know ) of Regine Velasquez singing the James Bond
song " For Your Sore Eyes Only " lol.. Take 'Sore' out please. hehe..
CLICK HERE TO DOWNLOAD OR PLAY! Whatever . .
SONGBIRD Sings LEGRAND!
14 & 15TH Feb, 2003 Fri-Sat / 8:30pm PICC Plenary Hall Pasay City
ADVANCE PREVIEWS OF A UPCOMING NEW REGINE VELASQUEZ FAN SITE !!
Preview 1 - Preview 3

Regine-Jaya Concert Site
CYBER SPACE'S MOST POPULAR
R E G I N E V E L A S Q U E Z
FAN WEB SITES ON-LINE :

Regine fans speak :

The most updating Regine Velasquez
web site has got to be Lester's
Regine Velasquez Multimedia Site
http://reigne.topcities.com
Sorry. I know I said we don't post bad stuff here but . .
Why is Regine fan Siren running around the Interactive Board
pretending to be someone name 'Manoling'? And why attack
fans who post comments about one of Regine's ex-handlers?
REGINEVELASQUEZ@NET
Won at the 5th Philippine Webby Award 2002
for the Best Website award under the
Celebrity and Personalities category !!
( Hey, how come Viva doesn't pay for a front page ad?
Support the fans! My golly . . I saw one for another winner)

Regine won 2 awards at the recent
Asian Television Awards 2002!!

Mariah Carey a Regine fan? :-)
Check out a interestingly similar new cover she has that
does kind of looks like Regine's 'R2K' in the front page.
The songs of Regine's heart by RICKY LO quotes from People's Magazine :
Because she hasn't had any boyfriend since ..Regine Velasquez is believed to be,
sob and sigh, a "man hater," to which Regine reacts with an exclamatory "What!?!"
( Didn't he already ask her that question before?! Is Ricky deaf?! lol..!! -mmJun )
What is that Scuttlebutt Nut Chick saying now?! Take a vacation, Lady! Take Reg's Distracter with you too.


REGINE FAN OF THE WEEK : VIVA DIVA MEL on RVML 2
( Sorry if you missed why. You must be on the wrong list then. )
" I like to think I'm still the same Regine who dreams of simple things
and hopes for simple joys . . Plain and simple is how I have always
described myself. And I will remain that way." - Chona Velasquez

Interactive Board: I hope you fans don't mind, but I got crabs lol~!
The Regine Velasquez Mailing List 2
Did you ever notice how this list of good Regine fans is NOT being promoted by the other fan sites? What's
the deal there, people? Got something against women who are outspoken? They are our Regine heroes today!
Regine's R2K Concert holds the record for being the most
successful two night paid concert for any local artist.
' So many places to be
so many faces
that I long to see
standing in front of me

tonight, the lights
will take me where
I long to be

just like a thousand
nights before . .
I just can't explain - '

' Give me the lights
precious lights, give me lights!

give me my hope
give me my energy . .

You turn the wrong
into right, precious lights-

you luminate me
and make me want to sing '

- STYX
' Rumors spread that Regine has had this and that fixed and that her beauty
is a "marvel of science." Frankly, I think what "changed'' Regine's appearance
is the inner beauty she possesses. This time it's no longer contained inside but
radiates outside as well. '  - Inday Badiday
" Your imperfections
are what make you beautiful.."

M O R E R E G I N E F A N S I T E S :

RV in Gonzales On-line (local) Regine Site (Korean)


Regine Multi-media

Regine US Concerts Site
Regine On-line (2nd Wink) Regine In Black & White
Regine's Picture Page 4 Regine Fanatic Page
Regine Velasquez of the Philippines (1996)
" No matter what anyone tells you
words and ideas can change the world! "
- Dead Poets Society
| | | |
| --- | --- | --- |
| In the Sept 2000 Issue of FHM, Regine Velasquez was voted no.9 among the 100 sexiest women of the world! She went up to no. 4 in the next poll! | Regine's album, "Live" ( At The Westin ) was released on December 1, 2000 Its probably Regine's most pirated CD! And it still went 4X platinum! Still on charts! ( unofficially we heard its 6X platinum ) | Despite what you see posted publicly on other fan sites .. Regine's First album went double-platinum ( 2X ) & a half! More than 100,000 copies. |
*

" The depth of your soul
Would inspire any muse
to lose control ..

There's no one
in this whole world,
That teaches me
the way that you do -

" Undying admiration ..
I'll write it on the sky
And tell the world of my
Undying admiration .. "

-David Pomeranz
" I believe that I speak for most of us
when I say that we will love Regine for always.
As a singer, an actress, a TV host, a concert star,
or as a friend, she will always be in our hearts. "
- Ernie Duque
Back to Main Buzz Area

" Singing is just like acting
where you put yourself into
the song and act it out." -RV

Any questions :

e-mail the web man at :

If I were given the choice of a movie
to watch with Regine Velasquez? It'll be -
" SPIDERMAN : THE MOVIE "
These are my songs
not necessarily sweet
I pass it on to folks
I'll never will meet

And if my words -
Don't make history . .
Then call it
'hard core poetry'
M U S I C I N S I D E B U Z Z
R E G I N E V E L A S Q U E Z
" This artist counts in places that don't "
midi song playing : " Believe "

Wow! Half-a-Billion pesos in movie grosses! Boggles the mind, doesn't it?
The Barbra Streisand/Regine Velasquez picture was made by OrientalGirl.
The top page lyrics are from popular songs picked by several Regine fans.
Regine's Picture Page web sites were sponsored by Regine's music friends.
Banner graphics made especially for this site by Regine fan Sincere.
Legrund/Regine leaflet sent in for posting on site by Regine fan Rowena.