This area will be for updating
what's new?
in some of the other
Regine Velasquez
fan sites out there
the following are the ones with continuous updating . .
The most updating Regine Velasquez
web site has got to be Lester's
Regine Velasquez Multimedia Site
http://reigne.topcities.com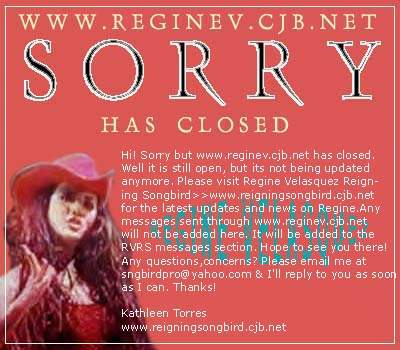 December 05, 2002

2 New mp3s from SOP's 12/01/02 episode. Still and Die Another Day is ready for download (Multimedia>>VerySpecial). Listen carefully (die another day) you will hear the impact to regine's song after the dancer hit her chest. Poor regine . Special Thanks To Grace Viray for the mp3s!

http://reigne.topcities.com

October 20, 2002
Updates on Reigning SongBird web site
New Regine concentration game added to REGINE VELASQUEZ REIGNING
SONGBIRD ...come n' play! also 5 new Regine picture puzzle games added!
__________________________
October 6, 2002
Updates on Regine Velasquez Multi-media
New mp3s: "Sa Aking Pag-iisa" (live) and "Careless Whispers"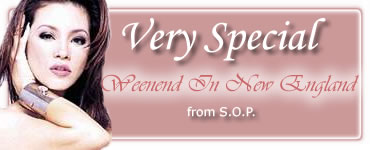 Fri, 20 Sep 2002
Updates on RegineVelasquez.net
Check out their wallpaper section!
Some of the best looking ones we've seen!
And unlike most of the site areas you get to
click and download these Regine material.
More Regine wallpaper on another Regine Page.
Fri, 13 Sep 2002
Updates on RegineVelasquez.net
16 screenshots from September 7's Star For a Night
and 17 screenshots from September 8's SOP
August 2002
Updates on Regine Velasquez Multi-media
Added new pics in GALLERY

1999-2000 : 7 NEW PICS contributed by: Roy & Michelle
http://reigne.topcities.com/gallery_1999_2001_02.html
http://reigne.topcities.com/gallery_1999_2001_03.html
Jul 29, 2002
Updates on Regine Velasquez Multi-media
http://reigne.topcities.com
RV Multimedia (formerly known as The Regine Velasquez Unofficial Fan Site) is reopening today (July 29) with the new and improved layout and design and with more stuff in it. RV Multimedia is featuring two LIVE mp3's every month, this month's mp3s are CRY and DADALHIN live from S.O.P. More mp3s are featured in the VERY SPECIAL section (Multimedia>>Very Special) You might wanna check these mp3s out ( Simple Things, Weekend In New England, Come What May, Open Arms )

Screenshots from SOP's July 14 episode and pictures from Regine @ The Movies Chicago and the autograph signing after the concert are also up for viewing.
Jul 23, 2002
Updates on reginevelasquez.net :
20 screenshots from UNICEF's
Speak Your Mind with Regine Velasquez

Aba, If any Regine Webbers got some complains to make
then send it to my e-mail address. Talk .. write .. communicate!

Regine Velasquez fan sites
in the Music Inside Buzz
midi song playing : " Regine (Grease) Is The Word "