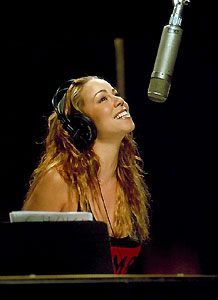 Mariah Carey Updates :
19 Dec -The sole album in the top-20 of The Billboard 200 to suffer a sales decrease is last week's top debut, Mariah Carey's "Charmbracelet" (MonarC/Island). The set took a 28% hit to sales of 173,000 copies, and nosedives 3-14 on the chart.
More Carey Updates in Regine Velasquez Interactive Board
Mariah Carey Vindicated By Court Decision
Judge Rules in Mariah Carey's Favor
LA - Mariah Carey and a team of songwriters did not steal the work of
two other composers when she recorded the song "Thank God I Found You,"
a federal judge has ruled. ( But did she steal that song from the composers of
Regine's hit song " In Love With You "? That's the multi-million dollar question! )
Mariah Carey Vindicated By Court Decision
(9/3/02, 6 p.m. ET) - Mariah Carey, Columbia Records, producer Terry Lewis, and several other defendants were cleared by a court ruling on Tuesday (September 3). The decision found that the aforementioned parties did not duplicate portions of Seth Swirsky's and Warryn Campbell's "One Of Those Love Songs" when they recorded and released "Thank God I Found Love" featuring Joe and 98 Degrees on Carey's 1999 album, Rainbow. "One Of Those Love Songs" appears on Xscape's 1998 release, Traces Of My Lipstick.

Swirsky and Campbell filed a copyright-infringement lawsuit in the United States District Court For Central California on September 15, 2000. U.S. District Judge Christina Snyder ruled Tuesday that there was a lack of melodic similarity between the two songs, according to AP. In addition, Snyder found no similarities in key, tempo, or harmonic structure.
In related news, Carey is presently hard at work on her Def Jam Records debut, which is scheduled for release on December 10. The singer has already recorded several songs with red-hot producer Irv Gotti, who has scored hits with Ashanti, Ja Rule, and Jennifer Lopez. Carey has also recorded material with producers Jimmy Jam & Terry Lewis, Jermaine Dupri, and DJ Quik.
-- Yves Erwin Salomon, New York

more coming soon . .