Old archive Kuh article
" KUK "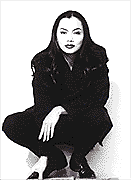 By KATA
ALLOW me to give way to a piece by my friend Kata Inocencio.
Kata and I share the sentiments of Kuh Ledesma when it comes
to spiritual matters. Come and see for yourself why Kuh is higher
than high this weekend at the Music Museum.

"Not too long ago, I sang her songs with all the heart and vocal
prowess that I could muster. 'Dito Ba?' while in search of my place
in the sun. 'I Think I'm in Love' when I thought I was in love. 'Ako
ay Pilipino' when nationalism was demanded of every Filipino.

"She inspired me so that I did in my life everything she sang,
literally. I found for myself my own little place in the broadcast
industry, fell in and out of love, and marched together with all
patriots in Edsa 1 and 2.

"Kuh Ledesma could actually move you to live the songs she sings.
The original diva, with the nightingale's voice and that take-me-or-leave-me
stance, obviously had an undying commitment to her art and she
always reinvents herself and her works. Kuh never fails to surprise
her audience with her original, inspiring, bold and daring trend-
setting concepts, and all are excellently done. I was particularly
awestruck and mesmerized when I watched Kuh in 'On Higher
Ground' at the Music museum recently.

"Kuh did the unexpected by opening her show with a popular
upbeat Christian song, 'Open the Eyes of My Heart,' soulfully
sang all her songs, including several spiritual songs, and
unabashedly shared her true-to-life story, and her audience
didn't know what hit them. This 'Ice Lady' had her heart
and soul on fire.

"She sang 'Impossible Dream' with so much fervor and candor
that I wept throughout the song. Even the late Ninoy Aquino would
have agreed this was the best rendition of his favorite song.

"Judging from the glow on her face and her youthful looks,
one would think that Kuh is in love. And in love she is, indeed,
with her Maker, Redeemer, Savior and Lord, Jesus Christ.


"Kuh had been separated from husband Louie Gonzalez
for four years. But she is very hopeful that her marriage
will be restored. God has told her so and she believes."

The Music Inside Buzz