What More Can Regine Ask For?
by Maricar C. Padilla
How about her own TV studio and record company?!
( Just thinking out loud..)

Everything happens for a reason. Even the greatest error and the deepest hurt
are meant to mold us into a person of strength and character.

An example of triumph over trials, Regine Velasquez has learned a lot from her brush
with the US Embassy and its decision to temporarily ban her from going to America.

"The biggest lessons for me is never to trust so easily and pay more attention
to even minute details, ask questions like what, how, why etc., Otherwise
you'll get into trouble."

Regine felt relieved the moment she stepped on US soil last September.
" I felt that the heavy load, I had been carrying, was finally lifted, "she says.

Presently Regine's career is soaring like an eagle. Having won in the Awit Awards
she feels honored. "More than anything I wanted the song Kailangan Ko'y Ikaw with
Ogie Alcasid to win as Song of the Year. It was my only prayer,
then other awards and nominations came along."

A selfless Regine lends her time and effort to aspiring singers. In fact she goes
into producing albums. Currently in the market is an album she has produced
for Gabby Eigenmann

"I saw his potential and I want to try to produce albums for other artists – the new ones.
I want to discover and guide them which is the main task of a producer."

How is Regine as a producer? "Gabby says I'm masungit, but I believe I'm patient.
I'm strict when it comes to work I don't want to play around or waste time, may time
para doon pero when we're in the studio it's work."

Just like any producer, satisfaction for her is hearing the outcome of the album
and seeing the artist succeed.

Regine likens singing to acting. She says, "singing is just like acting
where you put yourself into the song and act it out."

Aside from producing albums, Regine has her hands full with movie shootings,
the most recent of which is a romatic film with Richard Gomez as leading man,
TV hosting for SOP, tapings-the latest of which is for Maalaala Mo Kaya,
and some recordings.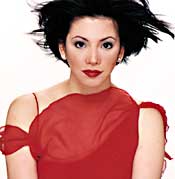 She is also busy preparing for her upcoming 12 series concert dubbed as At The Movies
on Nov. 9, 10, 16 and 17at the Music Museum and Onstage on Nov. 23 to 24, Nov. 30,
Dec. 1,7 and 8, 15 and 16 at 9 p.m. Where She will be performing hit movie theme songs
like My Love Will Go On from Titanic, Because You Loved Me from Up Close and Personal
and Can You Read My Mind. Most of the songs included in her line-up are from the '70s
to the present.

A self-confessed movie buff she says, "I wanted to try something new,
something I haven't tried and this is singing songs popularized in a movie
or a popular song used in a movie."

Her desire to venture into new things like acting, producing directing
and a little painting stems from a strong sense of self-worth.

"I don't want to be stagnant, just doing one thing. Who knows, my trying new things now
may lead to a career path I may take someday when I retire from singing," she says.

Competition for her is something healthy. It adds flavor and excitement to everyday work.
Among her good friends in the showbiz is Jaya. "I love Jaya she's a friend. She's open
to me and we get along well," says Regine.

She sings better when in love, "because I'm inspired and I cry
especially when I feel the intensity of the song."

Asked to comment on her love life she says, "I'm happy with how I live my life
and the freedom I have. I planned sana to settle down at 26 pero hindi na nangyari.
I am not looking for love at the moment. When it comes and I feel ready then maybe
I can give it a try."

These days she can no longer ask for anything else.
All she can say is she's having so much fun.

Fun for this simple yet very much accomplished Regine is eating.
She shuns diet and exercise and would rather take diet pills from time to time
to help win her battle with the bulge. She also likes watching TV and playing
Sims on the computer.

" I love Sims. I'm getting up in the world. Hindi na lang ako pang microwave,
nag co-computer na ko. I love shopping also I shop for bags when I feel tired."

Phil. Star, Nov. 7, 2001
" She's such a quick learner and very professional."
- Kuh Ledesma

The Music Inside Buzz