A regine velasquez article . .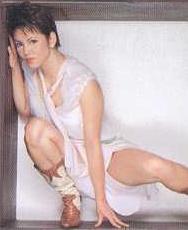 'Major Babe' Wings It In Night of Many Moods
by Ruben Cruz Jr.
I have to be honest. This was how my review of "Songbird Sings the
Classics" was supposed go:

"It seems the organizers of this concert, marking the 14th anniversary of
Regine Velasquez in the music business, and her first collaboration with
the promising musical director and arranger Gerard Salonga, actually wanted
us not to enjoy the show.

"Getting into the Grand Ballroom of the Philippine Plaza that night proved
to be quite a task, setting up a foul mood for the ticket buyers. A piece
of advice to the show's producers: Next time, just charge more for the
tickets and let us through, will you?

"The place was simply too packed, even for a concert of Regine. It was like
we were in Mayric's on a Friday night, which would have been all right had
the Jerks been playing, and had we been in that celebrated hole in the wall
along Espaņa. But we were going to see Regine Velasquez, Asia's Songbird
and Queen of Pop Music, in the Grand Ballroom of the Philippine Plaza!

"Thirty minutes after it should have started, there was no Regine, no band
and no orchestra onstage. The audience started clapping, clamoring for the
show to start.

"Surely, this is not the way to treat all the people who came to celebrate
with Regine her 14th year in the business?"

That was how I was supposed to write the review.

So, what happened?

Well, at exactly 10 p.m., the band and the orchestra started playing, and
Regine sauntered into the stage from the middle aisle singing Streisand's
"Songbird," and like the nightingale that captivated the king's court in
the children's story, the people just . . . well . . .we just stopped fussing.

Music, a writer said once, "hath charms to sooth a savage breast, to soften
rocks, or bend a knotted oak."

That night, the music of Salonga, the orchestra, the band and Regine
transported us from the cramped ballroom and our frayed nerves to wherever
we wanted to be, or perhaps, to moments and places we had been, when the
songs they played pervaded our emotions.

She sang Sinatra's "You will be My Music," and I saw the same geezers, who
moments ago vowed to just wait it out beside the bar in the hall outside,
squeeze themselves back into the seats they were complaining about, to
rejoin their wives, only too glad to hold hands and wax romantic.

New Depth

I was determined not to be so easily appeased, but then she launched into
this Mancini medley of "Moon River" and "Two for the Road," and I found
myself being wooed as well, to go back to a time and place of my own, in
the backseat of my father's old Falcon perhaps, with him humming along with
the Mancini tunes playing on the car radio.

No, it wasn't just that these people on stage were playing old songs. It
was like they were playing it for the first time, and you didn't know it
was a different take on the original version. The Manila Philharmonic
Orchestra and the session musicians forming "Regine's band" (her words)
blended well to create something special for the songbird.

And that supposedly familiar, powerful voice of Regine, I could swear, has
a newly found sensitivity and depth to it.

After 14 years in the music business, it seems Regine has pretty much
figured herself out. She knows where she's been and who she is and, even
possibly, where to go, and the self-assurance shows on stage, in her
performance, in the way she carries a conversation, even the way she looks.

Major Babe

How did she look that evening? Weeks before "Songbird Sings the Classics,"
I visited a website about Asian entertainment, which happened to list
Regine among the 21 sex symbols of the 21st Century. And I distinctly
remember thinking, "why her?"

She's quite attractive for sure, but I never really considered her to be a
"sex symbol." That night, however, I realized why not her? No disrespect
intended but the Regine I saw that evening was indeed a major, and I mean
major, babe (strictly guy words).

For one of those guys for whom a dress is just a dress, I'll just say she
exposed a lot of flesh that evening, front and back of her torso, wearing a
V-shaped gown that INQUIRER columnist Leah Salterio said was made
especially for her by Rajo Laurel.

It wasn't just the dress, though, that made the night for most men, it was
everything about Regine that evening, the way she moved her hands, pouted
her lips, stared into our nameless faces, walked about the stage. She was
all woman that night, even the way she made fun of herself during spiels.

It certainly looked like she was winging it throughout the show. One time,
she asked somebody for bottled water. She had difficulty opening the cap
and so she asked one of the orchestra members to open it for her, and after
gulping down some of the water, she couldn't find a napkin to dab her mouth
with, so she used a piece of her gown instead, which elicited laughs from
the crowd.

Regine said she and Gerard found it difficult to choose what songs would be
the right "classics" for the concert, but at least they wouldn't be accused
of being too picky. The audience definitely did not go home that night
feeling shortchanged, because Regine sang as many songs as she could in a
two-hour show.

Brilliant Team-up

She sang "Somewhere," and paid tribute to Streisand, who retired from doing
live performances recently. She did Barry Manilow songs, "Could It be
Magic," "Weekend in New England," "Even Now," and "If I Should Love Again,"
that seemed to make the two ladies beside me glad they didn't watch the
taped broadcast (What is it with women and Manilow anyway?).

She turned the ballroom into a dimly lit bar of fine-clad men and women
smoking cigars and drinking brandy with her series of torch songs that
started with "Breaking Up is Hard to Do." She didn't lie down on the piano,
but she did make some other guy's fantasy by dancing with him while she
sang "The Way You Look Tonight."

Regine highlighted a '70s medley with a moving rendition of Janis Ian's "At
Seventeen" and "Both Sides Now" by Joni Mitchell.

One of the most applauded numbers of the show had her singing a duet with
musical director Salonga. Regine said "With You I am Born Again,"
originally by Billy Preston and Syreeta, is her favorite and she
practically had to twist Salonga's arm to include it in the repertoire, and
to sing it with her.

Teaming up with Salonga was a brilliant move. I've read about him spending
two years at the Berklee College of Music in Boston, and how he graduated
summa cum laude, but Ryan Cayabyab's apprentice may just be a natural. At
27, if Salonga starts writing songs, or releasing the ones he's already
written, he may well be on his way to becoming his mentor's heir apparent.

Regine and Gerard did well to honor Filipino classic songs, as she sang
Cayabyab and Basil Valdez's best works, including her recent revival of
"Tuwing Umuulan," which made me decide to get a beer after the show (that's
my highest compliment).

Too Many Mood Changes

Regine must have performed more than 40 songs that evening, including her
encore, obliging requests from the audience. One of the requests she gamely
sang was "Sun and Moon" from "Miss Saigon." That brought smiles to the
other Salonga present that night, Lea who sneaked in with boyfriend Michael
Lee during the middle of the concert.

The most-requested-songs segment might have been uncharacteristic of the
concert's theme but who's to argue that if the audience enjoyed it best. It
just proved Regine could really sing every song and set the listeners into
a particular mood, a true songbird indeed.

There might have been too many mood changes, the pacing suffering a little,
with too many songs and not enough transition. But hey, as Leah Salterio
said in her column, she's packing 14 years into one night.

And while we're at it, we can forgive the organizers for the seats, for the
drinks, even for hard-selling Regine's upcoming movie by having Robin
Padilla stand onstage while she sang the movie's theme. We can even forgive
the guy promoting Bailey's who stood up in the middle of the show and went
onstage to do a scripted toast for Regine and Gerard.

They helped give us the show, and I for one enjoyed it.

That would have been a nice way to end the article right there, but there's
still something bugging me.

For a woman who's celebrating 14 years, Regine chose two very sad songs to
open and close her concert. I was sure she'd do an encore after she
tearfully sang "What Kind of Fool Am I," and she thankfully did to alter
the somber mood of the crowd.

But could the songbird, as the line goes, be "singing her saddest song when
she's all alone and no one else can see?"
Phil. Daily Inquirer, Oct. 12, 2000

The Music Inside Buzz