Malaya Newspaper, Aug. 28, 2002
Regine Produces . . .

Roselle's New Single
The producer of "Open" is no less than Asia's Songbird herself, Regine
Velasquez. Regine, being the song's producer is one of the reasons why
"Open" carries commercial viability without undermining its relevant
thematic content. This is the very first time that Regine worked with
ABS-CBN's Star Records as album producer.

Roselle feels very honored for having the chance to work with Regine in the
production of "Open." "I'll never forget the kindness and generosity that
Regine showed me while we were working on 'Open.' She is so talented and
very easy to work with. I'm very proud to have her as the producer of this
new song," says Roselle.

Regine is equally happy to have worked with Roselle in the recording of
"Open." She has been very vocal about her opinion that Roselle is one of
the most talented and gifted young singers that we have today. Aside from
being the producer of "Open" she also functions as Roselle's back-up
vocalist in the recording of the song.

In line with the promotion of "Open," an MTV directed by upcoming film
director Topel Lee is being aired on several music video programs. "All
About Love" is available in CDs and cassettes in all leading record bars
nationwide.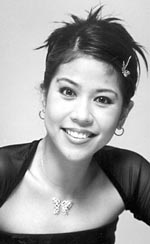 The Music Inside Buzz