G.T. article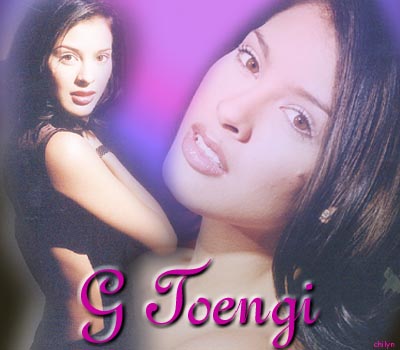 Giselle Toengi : Hollywood or Bust
by :Maridol Rańoa-Bismark 1/6/01

Sometimes, you don't have to be up to your neck with jobs to be happy. Look
at Giselle Toengi. She sparkles and glows these days. In fact, that glow
showed itself at last month's Metro Manila Filmfest awards rites, where
cameras clicked away at the sexy Giselle garbed in a hairy black gown.

What gives? Giselle has been smelling the flowers to the hilt in Manhattan,
where she rents a pad, while waiting for her agent in New York to give her
that big Hollywood break. In Manila, where she breezed in to attend the
last big showbiz event of the year, the Metro Manila Filmfest, and to
appear in Eezy Dancing once more among others, Giselle has bid former
manager Joji Dingcong an amicable goodbye and said hello to her new
management company, Genesis Entertainment.

Why the switch? It's not because of bad blood between her and Joji, whom
Genesis boss Angeli Valenciano considers a good friend. Her entry to
Genesis, surmises Giselle, is calculated to give her career more direction,
some sort of protective shell to shield the controversial actress from the
barbs of showbiz.

"I need guidance, stability," Giselle coos. "The kind that would allow me
to remain cool even if everything around me is topsy-turvy."

The Smart image model has admired the way Genesis gave Donita a
turbo-charged career: the kind that landed her juicy jobs, like that of MTV
DJ in Singapore and an endorsement for Globe. The feat, G thinks, is short
of a miracle.

Genesis is not exactly starting from scratch where their newest talent is
concerned. G was named Best Supporting Actress for Luksong Tinik at the
Metro Manila Filmfest last year. Thus, though her image is sexy, this
celebrity with Filipino-Swiss parentage does not project a bombshell
personality. G is categorized as an actress who can sing (her debut album
was released by Sony Music) and dance (she spent three years in ABC 5's
Eezy Dancing) for good measure.

True, it was a sexy role with hunk Jomari Yllana in Deliryo that brought
Giselle to the Toronto Film Festival, an experience she has fond memories
of, allowing her as it did, to work with two of her idols, the directorial
team of Peque Gallaga and Lore Reyes. But that's as sexy as she can go,
says Giselle.

"I want young woman roles - eccentric, offbeat," she drools. Her eyes
sparkle as she mentions Run, Lola, Run and the naughty American Pie as her
types of movies to star in.

One thing you cannot accuse this 22-year-old go-getter is not knowning what
she wants.

"Acting is the only thing I know," she says, head held high. So acting it
shall be for her, whether in the US or in the Philippines.

When she went to the US in September, G went to more than 20 auditions.
Bulging portfolio in hand, the script etched in her head, G presented
herself before American casting directors who, unlike their Filipino
counterparts, insisted on promptness.

"If call time is 3 p.m., you have to be there at quarter to three," reveals
G, who had the time of her life riding the subway. Never mind if she got
lost along the way. The important thing is she made it, thanks to a trusty
map she later did away with as she familiarized herself with the place.

Often mistaken for a Spanish or Latina in the US, Giselle savored her
newfound independence like never before. She whipped up adobo and sinigang
in her mirror-filled bachelorette's pad whose landlady, a guidance
counselor, always checked in on her.

Giselle discovered the poet in her during her frequent visits to New York
parks, another luxury she never had in the Philippines. Then, there was
regular gym work, the better to maintain those curves in all the right
places.

Giselle also frequented dance club thrice a week to learn the latest steps
in the scene.

Among the highlights of her US stay (she flies back Jan. 28) was a premiere
night where Giselle sat right next to Tim Robbins. The ever-bubbly Gi-selle
wouldn't let this golden opportunity pass without talking to the popular
actor. She began by telling Robbins about this friend of hers who's an
actor-director (Eric Quizon).

"He was very receptive, Giselle gushes.

The chance meeting only bolstered Gi-selle's belief in the Hollywood dream.
"In the US," she says, "nice roles don't come to actors until they reach a
certain age." She is referring, of course, to veterans like Robert de Niro
and George Harrison, who command a lot of respect in their senior years.

So too, it is with Giselle, who looks at acting, not merely as a means of
gaining fame and popularity, but as a lifetime profession to grow old and
wise in.

Giselle is willing to pay the price, high as it is – in terms of hard work,
patience and training – demanded of her as an actress. Never mind if in the
meantime, all she does is audition, huff and puff in the gym, and visit all
those swanky dance clubs in the US.

These, to her, are investments to her future. And Giselle is convinced more
than ever that if she builds it, they will come, not today, but sooner than
soon.

The Music Inside Buzz